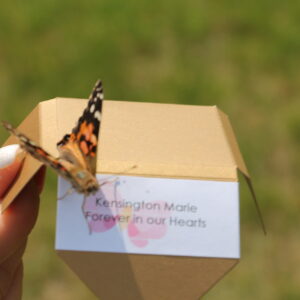 Painted Lady Butterfly Release
Painted Ladies for your Wedding, Funeral or Special Occasion
One dozen butterflies.
A Painted Lady butterfly release is an affordable option  – Painted Lady butterflies are small, friendly butterflies with a lower flight pattern and often fly away quickly when released but they are also known to linger near the release site and even land on people!
Select from gold, silver, or white satin, or ivory embossed for your box and indicate the color ribbon or flower you would like for ornamentation.
Use the order field to place your custom order.
*Painted Ladies are available March – October in areas where daytime temperatures are forecasted to be a minimum of 60+ degrees consistently and there are abundant nectar sources available.
$

65.00 –

$

75.00
Select options