Each life is unique. Honoring the memory of your loved one is a celebration of the individual you have lost. There are many ways to express this love; a unique final tribute is a Butterfly Release. Both touching and symbolic, butterfly releases create a lasting memory of love and hope for all participants.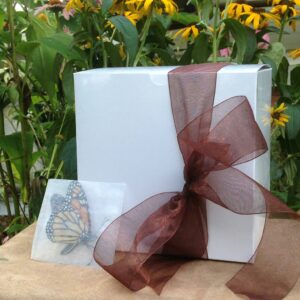 100 Monarch Butterflies in Envelopes
Monarch Butterfly Release Package for your Wedding, Funeral or Special Occasion
This package includes 100 monarch butterflies in glassine envelopes.  A Monarch butterfly release is a stunning option for your special event – when Monarch butterflies are released they tend to soar and glide gracefully through the air. The butterflies are shipped in the envelopes and are ready for release.
We are happy to personalize and customize your envelopes with a sentiment of your choice.  Use the order field for your personalization – up to four lines (approximately 25-30 words).
$

700.00
Select options